Pilates Videos
You feel great when your exercise more.
Sometimes it's super challenging to find a whole hour to get a workout in. The good news is, that is entirely unnecessary. Just 10 minutes at a time adds up!
Here are a few videos to help you work out at home.
5 Minute Pilates Intro
Short on time? Fit 10 exercises into about 5 minutes. Get your blood flowing, your body moving and your core a little bit of work. This is a great option for newer students to fit exercise in between classes! The more often you come back to a new skill, the better you get at that skill.
Swan Dive Prep
Just a demonstration of Swan Dive Prep - a move we start in level 1 and add on to in the upper levels. Remember to keep your glutes engaged, your hips on the floor and your shoulder blades rooted down your back. Remember just resting propped up on your elbows for 10 minutes every day can help your lumbar disc issues.
Side Series 1
Side series strengthens muscles that support healthy knees, hips and lower back, as well as helps your balance and movement. Just over 7 minutes. You have that much time. Do this with 3 times a week with appropriate resistance level, and you'll feel results in 2 weeks and see results in 3 weeks. Start with no weights, and add once you're ready. Remember to keep your abs engaged and your hips and torso stable. Weights available here.
Lower Body with bands 1 - Colorado
These exercises are useful for anyone looking to support and improve knee, hip and lower back health. The resistance of the bands helps you strengthen your muscles faster. Do this three times a week with appropriate for you resistance level, and you'll feel results in 2 weeks and see results in 3 weeks. Links on my page here to non-latex therabands. 13 minute video. Results are worth it!
PS - There's a second lower body with bands lower down on this page. Alternate them for variety!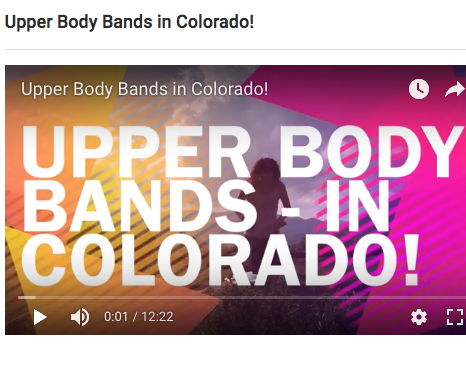 Upper Body with bands - Colorado
Looking for upper body strength and great posture? These are your ticket there. Try these three times a week for three weeks. You'll notice a difference. These non-latex therabands are easy to find and order on Amazon. About 12 minutes.
Pilates Scoop Basic
Refresher on how to engage those transverse abdominal muscles and gain the most out of your core exercises, here is the breakdown. If you're having challenge with strong stabilization, this is for you!
Active Isolated Stretch - Introduction
Learn how to do Active Isolated Stretch, a gentle and highly effective way to release adhesions in muscles and fascia, and reduce pain. Watch this first, if you haven't done it recently in class.
Active Isolated Stretch - 1
Hamstrings and hips are targeted here in this relaxing stretch series. Remember, if you experience pain, stretching is a proven pain reliever. Just over 12 minutes.
Belly Dance Warm Up
For my dance students - our classic warm up!
Belly Dance Shimmy Video
Shimmy breakdown and drills. 11 minutes will get your heart pumping!
Basic feet - Intro plus
Learn the basics of healthy foot positioning and strengthening. How we hold our ankles makes a big difference all the way up! The detail in this is for my dance students, but it's helpful for all!
Foot Strengthening Exercises
For stronger arches and ankles, or to challenge and build your balance. This was originally created for dance students with a high requirement for standing in releve. Start with half the exercises and build up to more.
Lower Body Bands 2
Do you only have13 minutes? Do this, get strong! Shot in Colorado. The nature of shooting videos outside to make things interesting sometimes means there is wind or rain sound. I apologize! This video includes foot work with bands, and more. These make a difference!
PS Yes! A couple mosquitoes were harmed in the making of this video!
Mobile Version - 12 Minute Ab Stabilization
Start out doing 30 seconds of each exercise, and resting for 30 seconds, picking back up with the following exercise. You'll get strong quickly. Focus on your scoop, stabilization and breathing! Aim for 3 times a week with these, and you'll see results quickly!
Mobile Version - 11 Minute Glutes for Hip and Back Stabilization
Start out doing 30 seconds of each exercise, and resting for 30 seconds, picking back up with the following exercise. You'll get strong quickly, larger muscle groups gain strength quickly.
Mobile Version - 7 Minute Back Stabilization
Remember to work the part of your body you can't see! Back, hip and knees issues need this stabilization.
Part of my alligator story!
For entertainment purposes only! Please do not incorporate this exercise into your home routine. ;) This was in pool 2 of the 3 incrementally larger alligators that I caught. When we're referencing "being a tree," it's because alligators see movement. If you don't move, they essentially "think you're a tree."
Improve Your Balance!
We've talked in class how important it is to practice your balance! These are exercises you can do at home that will gain your measurable improvement in just one week! Keep at it!